OUTTALINE LIVE SCHEDULE
MARCH 30th, TUBB'S PLACE 338-9201
APRIL 19th, 20th D's HAWG TRAWF 272-6975
MAY 31st D's HAWG TRAWF 272-6975
JUNE 1st D's HAWG TRAWF 272-6975
JULY 19th, 20th D's HAWG TRAWF 272-6975
AUGUST 30th,31st D's HAWG TRAWF 272-6975
OUTTALINE IS CURRENTLY IN THE PROCESS OF LINING UP MORE DATES AT MANY OF THE OTHER VENUES IN THE MIDWEST AREA, SO CHECK BACK OFTEN AS THIS SCHEDULE WILL BE UPDATED.
ROCK ON, AND ROCK HARD FRIENDS
WE'RE OUTTA HERE SEE YA' SOON...
HERE'S A PIC OF OUR SOUNDTECH, DOUG DOING HIS THANG. THANKS FOR ALWAYS HANGING IN THERE...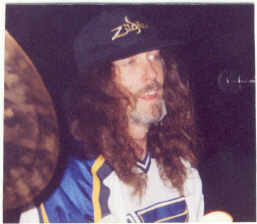 LIGHTNING, TAKING A BREATH AFTER LAYING DOWN THE HOT SCORCHING CANNONIZING...
WHERE WOULD YOU LIKE TO SEE OUTTALINE PERFORM? GIVE US A SHOUT, AND WE WILL TRY AND GET BOOKED AT YOUR FAVORITE NIGHTCLUB SO YOU DON'T HAVE TO TRAVEL FAR TO SEE US PERFORM. BECAUSE YOU ARE THE PEOPLE THAT MAKES OUTTALINE ONE OF THE PREMIER ROCK-N-ROLL BANDS THAT ARE CURRENTLY ON THIS ELECTRIC CIRCUS RIDE KNOWN AS ROCK-N-ROLL. OUTTALINE TAKES PRIDE IN TRYING TO GET TO ALL THE VENUES SO E-MAIL US AT OUTTALINE89@HOTMAIL.COM