DONNIE "FINGERS" CHARLTON GROOVIN' THE NIGHT AWAY...
JIM "BOSSMAN" LOGAN GIVING THE FANS THE BOTTOM LINE...
YOUTTALINE THANKS ALL THE MEMBERS OF THE OUTTALINE FAN FOUNDATION, AND ALL OF OUR SPONSORS. SURF RECORDS, & ON CUE MUSIC.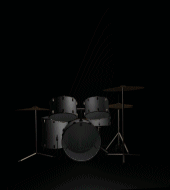 OUTTALINE EXTENDS AN INVITATION TO ALL YOU ROCK-N-ROLLERS OUT THERE THAT HASN'T YET EXPERIENCED ONE OF OUR HOT LIVE ROCKIN' PERFORMANCES, TO COME ON OUT AND GET IN ON THE ACTION. WE WILL GIVE YOU A SHOW THAT YOU WILL REMEMBER FOR A LONG TIME!

LIGHTNING STRIPPING DOWN TO THE BARE ESSENTIALS.......
OUTTALINE ROCKIN' YOUR WORLD