HAILING FROM THE MIDWEST REGION,
OUTTALINE IS A FULL THROTTLE, LIVE
ENTERTAINMENT, RECORDING ARTIST.
THAT DELIVERS DYNAMIC ACTION
AT EVERY PERFORMANCE!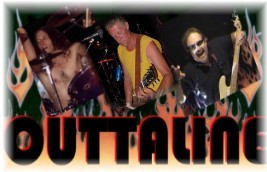 ATTENTION FANS: VISIT
FANS AND FRIENDS...
FOR MORE PICTURES
TO ALL OUR NEW FANS, PHOTOS ARE ALWAYS TAKEN AT OUR LIVE PERFORMANCES, AND IT IS WIDELY KNOWN THAT WE POST A MAJORITY OF ALL THE HAPPENINGS FROM OUR SHOWS.
OUTTALINE PROVIDES THE ROCK AND ROLL AT FULL THROTTLE, AND OUR FANS PROVIDE THE PARTY AT FULL THROTTLE!!! CHECK IN ON FANS AND FRIENDS, OR OUTTALINE LIVE PAGES FOR ALL THE DYNAMIC ACTION YOU MISSED, OR WERE A PART OF...REMEMBER, IF YOU DON'T WANT SOMETHING TO SHOW UP HERE, THEN DON'T DO IT AT OUR LIVE PERFORMANCES. IT'S ALL ABOUT LETTING LOOSE AND HAVING AN EXCELLENT NIGHT OUT ON THE TOWN.
IF YOUR NOT INTO HAVING FUN THEN JUST STAY AT HOME AND DO NOTHING, IF YOU ARE LOOKING FOR A FULL THROTTLE ROCK AND ROLL PARTY, JUST CHECK OUR SCHEDULE AND GET OUT TO AN
OUTTALINE SHOW!!!