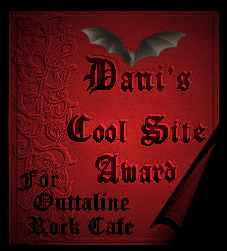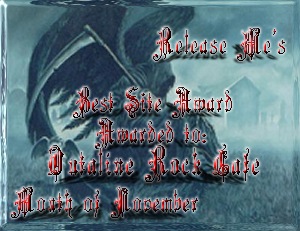 THE ROCK CAFE WEBMASTER THANKS ALL THE AWARDS PROGRAMS ON THE WORLD WIDE WEB FOR TAKING TIME OUT TO CRITIQUE WORK PUT INTO THE ROCK CAFE. NOT ALL AWARDS ARE STILL AVAILABLE TO THOSE THAT ARE SEEKING THEM, THE ONES THAT ARE, ARE LINKED PROPERLY TO THAT RESPECTIVE AWARD.
OUTTALINE'S WEBMASTER HAS AN AWARDS PROGRAM AT THE

IF YOU THINK YOUR SITE HAS WHAT IT TAKES TO GRAB OUR AWARD, VISIT THE ABOVE LINK, AND SUBMIT YOUR INFORMATION. NOT ALL SITES THAT ARE SUBMITTED WILL WIN, WINNERS ARE CHOSEN AT THE DISCRETION OF THE JUDGES THAT FIT THE CRITERIA. GOOD LUCK, AND THANKS.